Book Club and Library Resources
I speak to book clubs! Use the Contact page to see if I'm available for a virtual visit.
Death at Greenway
• A slide show with research images for Death at Greenway! (pdf download 7MB )DAG presentation
• Book club questions for Death at Greenway!
• I detailed the researching and writing of Death at Greenway in my newsletter. Sign up here! Arriving late? No worries: You can catch up here!
• Here's a Bookshop.org list of research and inspirations for this book. Treat yourself to a few!
• Here's a Spotify playlist of songs I listened to while writing Death at Greenway—some of them unexpected.
• I made a Pinterest board for this book, and collected all sorts of fun images for historical reference and my own real love of all things English Breakfast tea…
• Speaking of tea. Shane Mullen from Left Bank Books concocted a Death at Greenway-themed cocktail called Foxes in the Privet. Want to make it?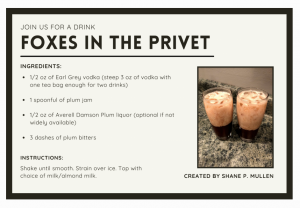 • Libraries played a role in the research of this book. Take a look…