"Low Life" in Southern Indiana Review
My story, "Low Life," is just out in the new issue of Southern Indiana Review. It's pretty!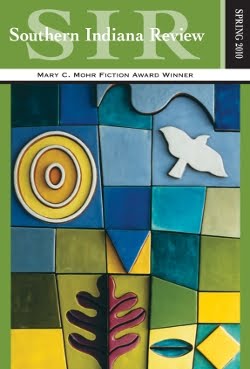 Not as easy to get as a Good Housekeeping, sure, but chock full of stories by people I've heard of and read, including Lee Martin and Joe Meno.
"Low Life" is one of my dude stories. A couple of male readers helped me figure out a couple of moments where my protagonist was being, well, a girl. But now he's got his Y chromosome in order and, despite being a thief, I like him. In another life, when I had all the time in the world, I might have had a whole book to write about this guy.
In other news, my Big Work Thing is done, and things at the day job are more normal for the foreseeable future. I have some revising to do on the book I am writing, so it's good to be able to rent my brain back from the job once in a while.
Greg made it back from India. As grumpy as I said he'd be, without luggage, and smelly, but in one piece. Ursa had a fit when she saw him.