Under a Dark Sky is…an Edgar Award nominee!
It's been such a busy day that I forgot to post this news here: Under a Dark Sky is an Edgar Award nominee!
I just said that. Like it was no big deal! But it is a very big deal, to me. I ugly-cried when I found out. SOBBED. I might be a little punchy; it's revision time and I haven't left my house in several days. Several.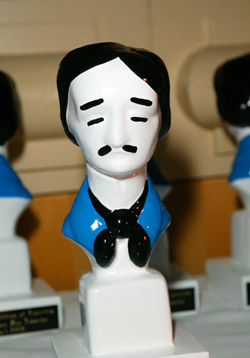 The Edgars are kind of the Oscars of mystery writing, and yes, I've been to the event before, but I've never gone as an Edgar nominee. (The Mary Higgins Clark Award, while a tremendous honor that I am very proud of, is not technically an Edgar Award. Only given out at the same time through the same process. It's confusing, I know. I had to explain this to my best friend who was like, Uhhh, do you have a brain injury? I thought you got this already.)

If you win, they give you a little ceramic Edgar Allan Poe head, like a china doll that is not at all creepy.
How cute is he? SO CUTE!
But even if you don't win, you get to say, forEVER, that you were an Edgar Award nominee, and you bet your ASS that I am going to.
I'm especially excited by the great books alongside mine in the Best Paperback Original category: Alison Gaylin, Naomi Hirahara, Leila Slimani, and Lisa Unger! Wow, right?
There are so many wonderful books on the full list of this year's finalists. Check them out and find something to read for yourself and all the readers (all ages!) in your life.