THE DAY I DIED is going to the Edgars!
Had a lovely surprise today: The Day I Died is a finalist for the Simon and Schuster/Mary Higgins Clark Award! The award is given out alongside the Edgar Awards, announced today, on Edgar Poe's birthday.
Yes, that's a thing that mystery writers know. It's Edgar's birthday. *confetti* Edgar! Here's your cake.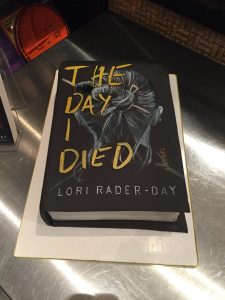 (It's also, as it turns out, Patricia Highsmith's birthday today. I'm actually reading one of hers right now. Big fan.)
Astute readers may recognize that award. The Black Hour was a finalist in 2015, and Little Pretty Things took it home in 2016. It's…humbling. As I said in 2015, reading Mary Higgins Clark's books at a very (ahem) formative age made me the writer I am. This is a terrific honor for me, and I'm excited to get to the Edgars in New York again, always a fun room.
Check here for all the finalists and winners of the Grand Master, Raven, and Ellery Queen Awards, too. There's a lot of good reading on that list.