Back home again in Indiana
That title is a song, and if you're not *from* Indiana, perhaps this song has never wedged itself into your brain for an entire weekend.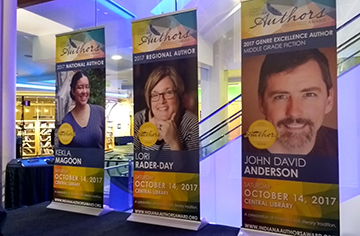 I spent last weekend at the festivities for the Indiana Author Award. I was the Regional category winner, and it was just a fantastic weekend. It was great talking with the other winners and finalists and adding their work to my to be read list, and also seeing so many Hoosier friends at the event itself. Jama and the good folks at Midwest Writers Workshop were there! One of the profs I used to teach with in the Telecommunications department at Ball State University was there! I complimented a woman I didn't know early in the afternoon on her lovely jacket and then after the ceremony, I actually looked into her face and realized—Kari? Kari who I used to work with at the BSU computer lab?! Back in touch after mumble years! Indiana was full of gifts!
Also, they gave me a very lovely and precarious trophy to redecorate my household around.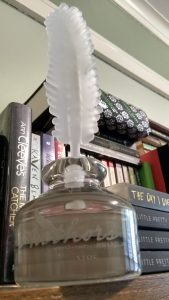 Part of the ceremony was a recording of me reading from my latest book, The Day I Died, so now anyone at all can hear me reading a snippet from The Day I Died. That doesn't make me nervous at all.
It was such a nice weekend.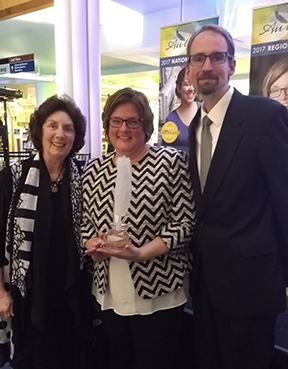 Thank you to the Glick Family (that's Marianne Glick with us at the right) and the Indianapolis Library Foundation and all the people who put together the program and prepared me to participate in it. I love that Indiana has this program. As part of this award, I'll be visiting some Indiana libraries this spring; can't wait. ALSO as part of this award, Thorntown Public Library will be receiving a grant in my name. I'm thrilled about this, and am looking forward to what they'll do with the grant!