Three Questions with… Andrew Welsh-Huggins!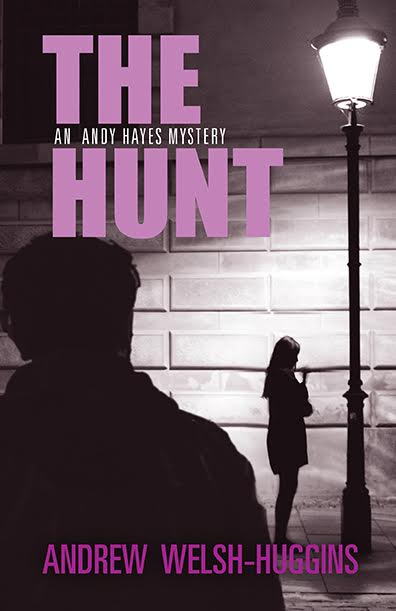 Andrew Welsh-Huggins and I have been hanging out in the same Midwestern mystery circles for a couple of years now, and we finally got to spend some time together last year at Magna Cum Murder in Indianapolis. You should think about coming to Magna, too, because Midwestern mystery authors are NICE. Or you could come out to the event Andrew and I are doing together for our launches and meet us both.
Wednesday, April 19, 6 p.m.,
Joseph-Beth Booksellers, Rookwood Commons Shopping Center, 2692 Madison Rd M, Cincinnati, Ohio.
We are going to have some fun, promise.
Andrew's new book is The Hunt, featuring private investigator Andy Hayes. It's out April 15, just in time for that refund from Uncle Sam. Here's what Booklist had to say about The Hunt: "The author has crafted a fine procedural based on human trafficking, and it's a pleasure to watch his PI, Columbus, Ohio–based Andy Hayes, go to work. …Welsh-Huggins has a way with language…[He] is an Associated Press reporter, and the urge to bring the news is an unkillable one."
Not too shabby, Andrew.
Tell us a bit about The Hunt and how Andy has grown or changed over the series so far.
The Hunt opens with a man hiring Andy to find his sister, a prostitute who's missing just as a serial killer is stalking human trafficking victims on the streets of Columbus, Ohio. Andy soon realizes he's not the only one looking for the woman, and the search becomes a race against time as he tries to unravel why so many people have taken an interest in finding her, not to mention doing her harm.
Andy has changed as I've gotten to know more about him and added to his back story. I've previously established that he's an ex-Ohio State quarterback with a lot of baggage, which happens when you blow your team's shot at a national championship by going to jail the week before the Michigan game. Now we're seeing more of his relationship with his parents and his two sons by two different ex-wives, as well as his ongoing efforts to have positive romantic encounters given a history of not treating women very well.
What do you and Columbus private investigator Andy Hayes have in common?
Hopefully not our approach to relationships! Andy has had a string of women in his life, whereas I've been married to my college sweetheart for almost 33 years. That said, he is my alter ego in many ways. We're both skeptical (but not cynical), we both want answers to the questions we're posing, we both have a snarky sense of humor, we both like to read nonfiction and work out, and we both have an aversion to guns. I would never recommend naming a series character after yourself, but in this case, probably because we do think alike at times, he just had to be an Andy. Fittingly, I suppose, that's a nickname I never go by, just as he never goes by Andrew—unless his mom is really mad at him.
How did you come to crime fiction and who are your influences today?

 The short answer is three series of books I read as a child: Encyclopedia Brown by Donald Sobol, the Happy Hollister mysteries by Andrew Svenson (published by the Stratemeyer Syndicate, which also published the Nancy Drew and Hardy Boy series), and my mom's Erle Stanley Gardner Perry Mason books, which I snuck off the top shelf beginning when I was about eight. Those books inspired a lifelong love of mysteries that continued through high school, college, and beyond. These days, I try never to miss new books from Michael Connelly, Ian Rankin and Laura Lippman as well as J.K. Rowling in her new guise as private eye novelist, to mention a very few. Going back in time, I was heavily influenced by Rex Stout (the Nero Wolfe mysteries), Robert B. Parker and Spenser, several of Stuart Kaminsky's series and Ohio's own Les Roberts, with his Milan Jacovich books set in Cleveland. If I had to describe where Andy Hayes comes from, I'd say he's a combination of Nero Wolfe's sidekick, Archie Goodwin (who, at least fictionally, was from Ohio), and Spenser, with a dollop of John D. MacDonald's Travis McGee thrown in for good measure. Ultimately, though, I have to credit my mom, Mary Anne, and my late father, Richard, for raising me in a house full of books where reading was encouraged, and for always championing my dream of being a writer.