Enter to win a gift certificate to your favorite bookstore!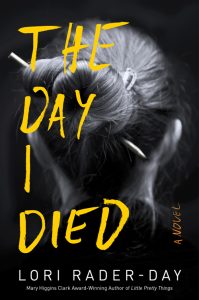 Have you pre-ordered The Day I Died?
If you're that excited about the launch of The Day I Died, why not be rewarded for your enthusiasm?
If you have pre-ordered The Day I Died, take a snapshot of your receipt showing the title and the date of the sale and email the photo to contest (at) loriraderday (dot) com before March 31 for your chance to win a prize package of The Day I Died treats!
Eight winners will win:
• $25 gift certificate to the bookstore of the winner's choice. (I encourage you to consider independent bookstores in your area, but any bookstore can be chosen.)
Any entrant will receive, if requested in the email:
• A signed bookplate for your book. If you want it personalized, please specify who the book is for. You may also have me sign your book if I'm having an event at your local library. See my events page to look for your town.
If you're buying The Day I Died for a book club read, you may be interested in my contest for book clubs!