Three Questions with…Susan Spann
Susan Spann and I met through The Debutante Ball. No, neither of us are party dress or tiara types, but we know a good thing when we see it. We got in on that action, learned a lot, and met a slew of great women authors, including—ta da!—each other. (We also met Lisa Alber, the other mystery author my year at the Deb Ball. And now we all meet up at mystery conferences. So fun.)
But then, plot twist! Susan's ninja mystery series (yes, that's what I said, I said ninja), set in 16th century Japan (yep) moved over to Seventh Street Books, the publisher of my first two novels. Well, Seventh Street knew a good thing when they saw it, too. Her new book, The Ninja's Daughter, is out tomorrow, August 2, with a stellar new look for the series (see below).
The other thing to know about Susan is that she's a giver. If you're on the Twitter (as the kids call it) (no they don't), check out Susan's weekly #PubLaw series to learn about the intricacies of contracts, working with agents, writing under a pseudonym, all of it. You will be a publishing ninja in no time.
Welcome, Susan!
Your Shinobi—that's a ninja—series is now up to its fourth book, The Ninja's Daughter. Keeping a series going seems like a ninja move to me. Can you talk about how you keep the series fresh and new with each book?
Part of the secret is treating each book as a stand-alone novel as well as a series book—so readers don't feel lost or "left out" no matter where they come into the series, and so the current book doesn't spoil the mysteries that came before it. When each installment has to tell a completely self-contained story, it's easier to keep them fresh.
The other side of that coin, however, is making sure that each installment moves the larger series arc forward, by bringing the readers closer to (and telling them more about) my detectives, master ninja Hiro Hattori and his Portuguese Jesuit sidekick, Father Mateo. Although each novel stands alone, the series as a whole tells the ongoing story of their friendship and their search to learn the identity of the unknown benefactor who hired Hiro to protect the priest.
Add in the ability to take readers into a new and intriguing corner of medieval Japanese culture in every volume, and that's my recipe for series fiction!
You have also recently completed another ninja move for an author—moving a series to a new and enthusiastic publisher.
Yes! I'm thrilled that, starting with The Ninja's Daughter, the Hiro Hattori Novels are being published by Seventh Street Books. The first three Hiro Hattori novels were published by Minotaur (as the Shinobi Mysteries), and I truly appreciate Minotaur's interest and support for those first stories. However, Seventh Street shares my vision for the series in a unique and special way—from the titles to the cover art, as well as the characters' future adventures—and I'm absolutely delighted that the series is moving forward at Seventh Street books.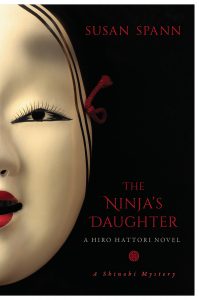 The cover for The Ninja's Daughter truly captures the novel, as well as the theater culture of medieval Japan—beautiful, but with a creepy edge that hints at menace beneath the surface. That's a perfect example of something every author hopes for, and I've been lucky enough to find it at Seventh Street.
Your books are set in the 1500s. In Japan. Another ninja move. How do you research for your books, and how much do you worry about getting the historical detail right?
Accuracy is critically important for historical novels, and I've actually rewritten scenes and re-plotted settings when the research didn't support the original outline. Strong details convey a sense of time and setting that's particularly important to historical mystery. In fact, I consider the setting another character in my novels, and change it slightly with every installment to keep the series fresh. That does require more research—since The Ninja's Daughter involves the murder of an actor's daughter, I needed to research the life and practices of Kyoto's medieval theater guilds, for example—but those unique details bring novels, settings, and characters to life.
In terms of research, I use every piece of information I can get my hands on. I have an undergraduate degree in Asian Studies from Tufts University, where I studied medieval Japanese history, culture, and architecture. Since I don't have a functional time machine (my Tardis is currently in the shop) most of my current research takes place in books and online, and I also consult with a Japanese historian who lives in Kyoto. Best of all, I get to take research trips to Japan to visit the sites of my upcoming novels—the most fun part of the writing process!
Thank you for letting me share a little about The Ninja's Daughter and my writing process, and for having me on the blog today!
Thanks for being with us, Susan! Congrats on the new book!