Little Pretty Things WINS the Mary Higgins Clark Award!
OH, boy, do I need to get better at updating here. You win one huge mystery writing award, and things on your website go sadly out of date.
That's right. WIN.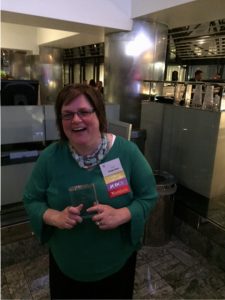 The Invisible Trophy, as I have nicknamed it, is that square of glass I'm holding (I swear it's there). It's lovely and I couldn't be more excited to have it in my house, especially given how wonderful the other nominee books were. The ladies who wrote them? Also lovely.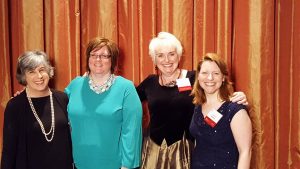 From left: Hallie Ephron, me, Catriona McPherson, Susie Calkins. Not pictured: Frances Brody, she of Living in Far Away Places. Read their books!
Here's my acceptance speech if you are so inclined (I can't watch it. I lived it, Dottie.)
If you want the gist, I thanked the other four nominees, Mystery Writers of America, Mystery Writers of America Midwest, my agent Sharon Bowers, my editor Dan Mayer and everyone at Seventh Street Books, Mary Higgins  Clark, who has been such a part of my reading and writing life, and of course my wonderful husband, who was there to see me win.
And then my agent, Greg, and I drank illicit wine in the hotel lobby, cackling like school kids. A good night.
I probably forgot to thank you, so accept my gratitude here and now.