Three questions with…Alex Segura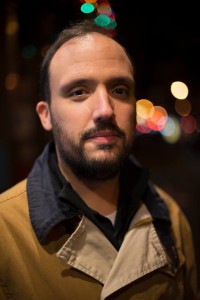 Have you ever known someone casually and then suddenly, by accident, had the chance to get to be better friends with him? That happened to me with
Alex Segura
the evening of the 2013 Anthony Awards in Long Beach, California. I hadn't made plans to meet anyone there, the place was huge, and then there in the sea of humanity was a friendly face. Alex and I had a blast and got to know each other while watching some our friends  take home beach-ball-themed trophies.
I'm happy to see Alex's face anytime we're at the same mystery gathering, and now I'm happy to see Alex's name on some new books, a reissue of his first novel, Silent City, and the just-released Down the Darkest Street. I'm also a big fan of Alex's newest hobby—posting photos of his adorable new son on Facebook. It's been a big year for Alex Segura!
Welcome, Alex!
What inspired the story of Down the Darkest Street?
Two things: I knew I wanted the sequel to Silent City—and the second novel featuring Pete Fernandez, a washed-up former journalist stumbling toward becoming a PI—to be darker. Which isn't to say Silent City was light reading, but I wanted to really show Pete what a dangerous path he was on, having (kind of) chosen the life of a private detective. Florida is fertile ground for murderers and serial killers, so that got me to researching that, but I wanted to put a new twist on it. If it didn't feel fresh to me I didn't want to do it. Around the same time, I was talking to a dear friend of mine and she mentioned something offhand—I don't want to spoil the book, so forgive me for being vague—but something along the lines of 'wouldn't it be cool if there was a killer who did this.' [Crime writers think certain things are cool that are not really "cool" in real life. -ed] That was the final ingredient, and it helped everything click into place. I also knew I wanted Pete to have a partner, someone to call him on his shit and really push him and the reader.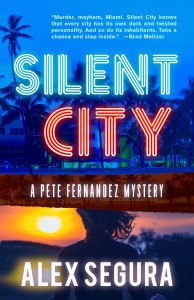 I wasn't interested in showing off his next case as if it were an episode of an episodic network drama, you know? Where it's more about the case-of-the-week and less about the characters. I wanted it to feel like an important moment for him and, by the end of the book, show that he's evolved. When we leave him at the end of Silent City, he's redeemed himself somewhat, but is also a little unsteady on his feet. From page one of Down the Darkest Street, you know things are getting tougher for him, and it keeps getting worse from there.

Once all those pieces appeared in my head, I knew I could make that into a book.

Why is Miami a great crime story setting?
I just feel like there's so much more to Miami than what people think or assume. It's not just fun in the sun, palm trees, and beaches. Miami is a big, spread-out town with a lot of unexplored corners and people. I wanted to tell stories about the Miami I knew growing up there—the city, the suburbs, the rich and poor neighborhoods. I love novels with a strong sense of place, like Ellroy's LA or Lehane's Boston, where you feel like you're visiting a new city. So I wanted to do that for Miami, a place that's no stranger to crime—weird, disturbing, or deadly.
A lot of surface stuff—we're both from Miami, both Cuban-American, about the same age (I think Pete's a few years younger!), we both work or worked in newspapers. I liken Pete to someone I knew in high school or college and lost touch with. We have some shared experiences, but are very different people. He's a lot more impetuous than I am and is probably much more willing to throw a punch or fire a gun. Pete also leads a much more problematic and complicated life than I do. He's also got a big self-destructive streak I don't, which I'm grateful for. I wanted to write stories about a protagonist that was familiar to me—in the sense that I could see him clearly and maybe relate to him—but that was also different. I think Pete fits the bill. And as writers, I think we interject ourselves into everything we write, from the leads to the bit players.
__
Silent City is out March 15; Down the Darkest Street is out April 12. Both are available for pre-order right now!
__
Alex Segura is a novelist and comic book writer. He is the author of the Miami crime novel SILENT CITY, the first in a series featuring Pete Fernandez. SILENT CITY and its sequel, DOWN THE DARKEST STREET, are out this year via Polis Books. He has also written a number of comic books, including the best-selling and critically acclaimed ARCHIE MEETS KISS storyline, the "Occupy Riverdale" story and the upcoming ARCHIE MEETS RAMONES. He lives in New York with his wife. He is a Miami native.