Little Pretty Things is a Mary Higgins Clark Award nominee!
Well, this is ridiculously exciting.
This morning, Little Pretty Things was named a 2016 Mary Higgins Clark Award nominee!
A full list of nominees for the Edgars and the MHC Award—with many many great friends on it—is here.
I think I've said before how much Mary Higgins Clark has meant to me since I was a young reader, and then there was this: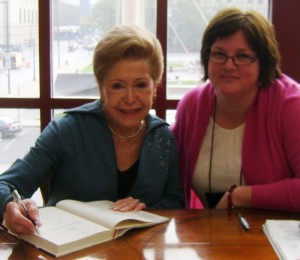 That's me meeting Mary Higgins Clark in 2012.
Mary Freaking Higgins Clark. Speaking of the queen of suspense… Here's a piece I had published today by Crimespree magazine about how I went from knowing one mystery writer in all the world to sitting next to Mary Higgins Clark for breakfast—in one year.
Will be celebrating with the other wonderful nominees in New York in late April—can't wait!