Three Questions with… Jenny Milchman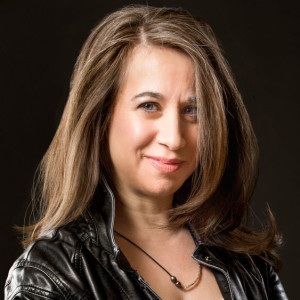 If you don't know who Jenny Milchman is, then you haven't been to a bookstore lately. I don't just mean that her three novels, including the brand-new As Night Falls, are well-stocked in our nation's book nooks. I mean Jenny herself is there. Known for her round-the-country family truckster bookstore tour, Jenny Milchman has the energy we all wish we had—and a story of perseverance to match. Aspiring writers, take note. This just might be how you conquer the world.
Three Questions with Jenny Milchman
I have to ask about the world's longest book tour, because it's so interesting and of course I've joined you for a date or two on it. Tell us a little about the how and, more importantly, the why—why are these tours so important to you?
After my first novel—which was really my eighth—came out following a thirteen year journey to publication—I'll explain more below—I did the next logical thing. Rented out our house, traded in two cars for an SUV that could handle Denver in February, pulled the kids out of first and third grades to "car-school" them in the backseat, and hit the road with my husband on a 7 month, 35,000 mile book tour. Don't worry if the whole "logical" part escapes you—my publisher thought I was nuts, too. In fact, they convened a conference call to tell me so. But here's the thing…my debut novel went into six printings in hardcover. Not mega-sized printings, like everybody reading this now knows my name. Far from it. But still—Cover of Snow did better enough compared to expectations that once I returned from the world's longest book tour (as Shelf Awareness called it), my publisher said, "Well, if you do want to go out again…we would understand." Or words to that effect. And by the third time around, with As Night Falls recently released, my publisher is helping to set up the tour, and even paying for a portion of it.
I think it's a real testimony. Not to me as an author, but to the power of the face-to-face. To the fact that in our increasingly virtual world, real life encounters become all the more valuable. Independent bookstore openings are up because we are learning the unique attributes they offer—their ability to draw together a community. As I say all over the country, an emoticon is not the same as a smile. And getting to pair with you, Lori, and other authors, while meeting readers and book lovers all over the country, is what makes the nights out here so magic.
Whenever I get the chance, I like to have you talk about your getting-published story, because it's the best example of perseverance I've heard. Can you fill people in a bit and tell us all  about what it means to you to be on this side of that story?
Here are the numbers. In 11 years I wrote 8 novels, worked with 3 agents, got [politely] dumped by 2, and had a total of 15 almost-offers on my books. An almost-offer happens when an editor wishes to acquire your book, but can't get consensus from the other editors, marketing department, or publicity. My seventh novel—and last submission before I finally broke through—was rejected by the publisher of a major house herself. It was a harrowing, degrading, desperate period of time. I tried to focus on the joys—my family, encouragement along the way, the stories themselves—but it was really, really hard. I almost gave up a million times.
How does it feel to be on this side? I am grateful every single day. I can't believe I get to write books that people read, to make up stories for a living. I never thought this could happen.
The way it finally did was that an author whose work I loved read my unpublished manuscript and gave it to her editor. It was a match made in heaven…it just took a long time to reach it. And rather than have writers take away from my story a feeling like, Oh, well, you have to have connections in this business, or, Which author can I get to read my work? I'd like to point to an alternate interpretation.
This is a game of hanging in there. Fortune favors the prepared. Hone your craft—I thought I was publishable probably about six novels before I actually was—do good things for other writers, build relationships with book lovers of all sorts (readers, booksellers, librarians, book club leaders, teachers…the list could go on), go to conferences, submit short stories and non-fiction articles. The more ways you put yourself out there, the more chances you have for the right person to come along and fall in love with your work. And the more you support people even when you are feeling low, the more people will want to help you rise.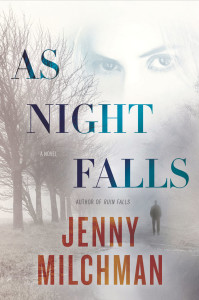 Your latest thriller, As Night Falls, had some eerie pre-publication assistance. How did real-life events help or hinder your chance to tell this harrowing story?
Well, I wasn't aware of the real-life confluence to come at the time I was writing. In fact, when the news story broke, about three weeks before As Night Falls came out, my editor sent me an email that said, Best. Publicity. Stunt. Ever. And I wrote back, No power tools were sent in the making of this novel.
For those who don't know what my third thriller is about—and there are surely a lot of them—the story concerns two convicts who escape from an Adirondack prison, one big and one wiry, and head north to the Canadian border.
And for those who don't follow the news—and there are probably many fewer of them—in early June of 2015, two convicts escaped from an Adirondack prison, one big and one wiry, and headed north to the Canadian border.
It's funny because each of my novels—and there are a fair number of them, as you know from answer # 2 above—have a genesis story. By which I mean, I'm aware of which character started speaking in my ear, or how the premise came to me. At an event in Surprise, AZ last year, I peered down the signing line and saw a sudden dip in the row of heads. There was a child on line, and she and I locked eyes. Boom, my next novel was born. I knew I was going to go home and write a book where the protagonist is a writer, encounters a kid at one of her book events, and something crazy happens. I didn't even know what the something crazy would be.
But for As Night Falls…no genesis story. I have no idea why I sat down and began writing about convicts. Or even the woman who has to wrest her life, and the life of her family, back from them. Nor did I know that more than a year after I began writing, two men would decide to play out a similar story in real life.
There's a mystery to what we do, isn't there? Greater even than the ones in our stories.
Jenny Milchman is currently on the road for what Shelf Awareness calls the world's longest book tour with her third novel, As Night Falls. Find her—literally—at http://jennymilchman.com/tour/bring-on-the-night-2015
About As Night Falls
Sandy Tremont has always tried to give her family everything. But as the sky darkens over the Adirondack mountains and the threat of a heavy snowfall looms, an escaped murderer named Nick Burgess has the power to take it all away.
Gazing outside at the shadowy woods, Sandy prepares dinner while upstairs, fifteen-year-old Ivy–smart, brave, and with every reason to be angry tonight–keeps her distance. Sandy's husband Ben, a wilderness guide, arrives home to a mood simmering with unease.
Nearby, two desperate men on the run make their way through the fading light, the ground in their wake red with blood they've shed—there can be no loose ends or witnesses. Almost twenty years as prison cellmates have forged a deadly team: Harlan is the muscle and Nick, the mind and the will. As they approach a secluded house and look through its windows to see a couple eating dinner, Nick knows that here he will find what he's looking for…before he disappears forever.
About Jenny Milchman
Jenny Milchman is a suspense writer from New York State who lived for thirteen months on the road with her family on what Shelf Awareness called "the world's longest book tour."
Jenny's debut novel, COVER OF SNOW, won the Mary Higgins Clark award for Best Suspense Novel of 2013, was praised by the New York Times, AP, and many other publications, and chosen as an Indie Next and Target Pick. RUIN FALLS was also chosen as an Indie Next Pick and a Top Ten of 2014 by Suspense Magazine. Jenny's third novel, AS NIGHT FALLS, an Indie Next Pick and one of PureWow's Top 30, is a summer 2015 release.
Jenny speaks nationwide about the publishing industry and the importance of sticking to a dream. She is Vice President of Author Programming for International Thriller Writers, and the founder of Take Your Child to a Bookstore Day, which is celebrated in all 50 states and 6 foreign countries. Jenny teaches writing and publishing for New York Writers Workshop.