Three Questions with…Ben H. Winters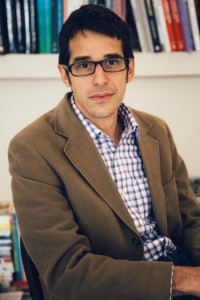 Ben H. Winters
and I met for the first time at the Public Library Association conference in Indianapolis last year, where we and
Laura McHugh
did a dinner-with-librarians event together. Having dinner with us was a
prize
. But I'd been aware of Ben's work earlier, because we both belong to the Midwest Chapter of Mystery Writers of America (he writes from Indianapolis), and Ben won, ahem, an EDGAR AWARD for his book
The Last Policeman
. It was hard not to be aware of Ben.
Now the third in his award-winning series, World of Trouble, is out. You're probably aware of Ben, too, but if not, today's your lucky day.
Tell us the story of how the idea behind The Last Policeman series came to you?
I was in the fortunate position of having a solid ongoing relationship with a small press, that being Quirk Books, publisher of my unlikely first novel, Sense and Sensiiblity and Sea Monsters. I knew I wanted to do a detective story but I also knew that Quirk was the kind of publisher that wanted some sort of angle, a "big take" on whatever it was I wanted to do. So I think that's how I arrived at the twist, although I quickly realized that my civilization-destroying asteroid had gifted me with a lot of narratively and thematically interesting places to go.
What do you and Detective Hank Palace have in common?
Well, we're both tall and thin and ungainly, and we both have been known to use the phrase "holy moly," despite the contention of some readers that no real human says that. Other than that, we are very different people. He has a keen eye for detail, an ability to connect the dots on complex problems, and a relentless focus on one thing at a time. These are not qualities I share. Oh also he has a loyal dog who has occasionally saved his life—I have a lazy cat who occasionally barfs on my office carpet.
What advice could you give to a writer considering the challenges (and joys?) of writing a series?<&nbsp>
Make sure that each book is centered around one case, or one event, with a beginning, middle and end. With its own big questions, big themes, and big conflict that works toward satisfying resolution. A true series is made up of very strong individual novels, not a bunch of pretty good novels that together become something great. I am currently obsessed with Walter Mosley's Easy Rawlins books, and each alone is magnificent. Especially A Red Death. Go read A Red Death.
You heard the man. Go read! Thanks to Ben for answering three nosy questions and for hosting me on his site a few weeks ago. I got to talk about the Midwest as a
sizzling hotbed of murder
.
Ben H. Winters is the author of eight novels, most recently
World of Trouble
, concluding the Edgar-award-winning
Last Policeman
trilogy. His work for kids includes
The Secret Life of Ms. Finkleman
and
Literally Disturbed: Tales to Keep You Up at Night. 
You can find out about him at
BenHWinters.com
or follow him on twitter @BenHWinters or at
Facebook.com/BenHWintersIsAWriter