Interview with Susan Spann, writing samurai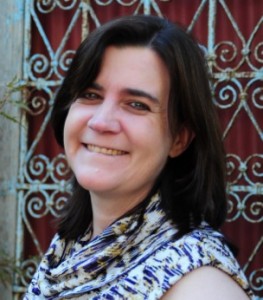 I met Susan Spann through The Debutante Ball. Technically speaking, Susan had a lot to do with me being a Deb on that site. She was a Deb in 2013 for her debut, Claws of the Cat (Minotaur). And today we celebrate the release of her second book in the Shinobi series, Blade of the Samurai, which came out yesterday. *CONFETTI DROP.*
Susan is also a lawyer who runs the phenomenal Twitter chat #publaw. When not writing or representing clients, Susan enjoys traditional archery, martial arts, horseback riding, online gaming, and raising seahorses and rare corals in her highly distracting marine aquarium. Susan lives in Sacramento with her husband, son, two cats, one cockatiel, and a multitude of assorted aquatic creatures.
Welcome, Susan!
When did you start writing mystery? Why are you drawn to it?
I started writing mystery in spring of 2011. Before that, I'd written four (unpublished) historical fiction manuscripts, each better than the one before but all lacking "something" (translation: the agents I queried didn't sign me).
In March of 2011, I was standing in front of the bathroom mirror, getting ready for work, when a voice in my head said "All ninjas commit murders, but Hiro Hattori solves them." I'd never written a mystery (though I've loved mysteries and thrillers all my life) but I knew immediately that I had to write that book.
Which, of course, became a series.
Your books are historical mysteries about a ninja. Let's ask the real question on everyone's mind: How did you get to be so cool?
LOL! I'm a geek from way back. Apparently, once you're over 40, "geek" becomes cool.
OK, how about…why a ninja in 16th century Japan? How did you get interested in the topic?
After being attacked by ninjas in the bathroom (see above…) I had no choice but to write Hiro's story. Fortunately, I've also loved Japan and Japanese history for years. I fell in love with medieval Japan after seeing the SHOGUN miniseries back in 1980 (the one with Richard Chamberlain in the starring, and only Western, role). The day after the miniseries ended, I went to the library and checked out James Clavell's book (also titled SHOGUN) which inspired the miniseries—and also inspired my deep love of Asian cultures.
Years later, in college, I majored in Asian Studies, with a concentration in Chinese and Japanese history and culture.
Do you practice any martial arts?
I'm not currently practicing, but I have studied Tae Kwon Do and Hapkido, a pair of Korean martial arts, and also a little Wushu (Chinese martial arts). As soon as I find a good local dojo, I intend to start practicing Kendo, and possibly also Aikido—both forms of Japanese martial arts.
Have you been to Japan?
It surprises many readers to learn that, despite the level of detail in my novels, I have never actually been to Japan. Instead, I've relied on my studies and worked with Japanese experts (residents of Kyoto) who help me with fact checking and send me photographs of the locations I use in the novels—many of which still exist. However, I'll be spending several weeks in Japan next year, doing research for the next novels in the Shinobi series.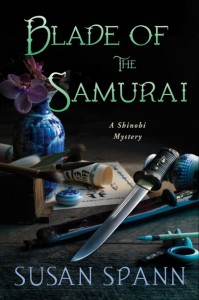 Is there anything you learned from your first publishing experience that you're putting to use this time?
How to manage fear and expectations. Publishing a novel is a dream come true (regardless of the form, format, or path the writer takes) but it's also a terrifying experience in many ways. As long as you stay unpublished, your work is TOTALLY AWESOME and nobody can ever tell you differently. The minute you publish…other people get to have opinions about your work.
As a first-time author, I wondered whether people would read my work, whether anyone would like it, and whether I'd have a stress-related heart attack before release day came. With this release, I've been much more relaxed—due, in no small part, to a core group of writing friends and the readers who enjoyed the first book and tell me they're eagerly waiting for the second.
That's not to say I don't have fears. I've accepted that fear (or anxiety, if you prefer) is a writer's constant traveling companion. The difference is, I've learned that releases are something to celebrate, and that it's the readers and friends who love you that deserve the writer's appreciation and focus.
How do you inspire yourself to get past difficult moments in writing and editing?
I call it "writing through the mud"—and though I wish that included some glamorous, magical answer to the problem, the reality is I simply sit down and bang out words until they start feeling good again.
When inspiration is really low, I sometimes turn and watch the fish and corals in my aquarium for a while. The tank sits just to the right of my writing desk (within arm's reach) and it offers a great escape when the thoughts won't flow. Usually, a few minutes of fish, crabs, and corals is enough to get my thoughts in order and my fingers back on the keys.
What's next for you as an author? Can you give us a hint about your work in progress?
I'm killing more imaginary friends. Hey—it worked out well the first time.
More seriously—the third Shinobi Mystery, Flask of the Drunken Master, is already with my editor at Minotaur Books and scheduled for publication in July 2015. I'm currently writing the fourth book, under the working title Blood of the Outcast.
Do you have any upcoming signings or readings?
Quite a few!
I'll be guest hosting #LitChat on Twitter July 23 at noon Pacific Time.
As far as in-person appearances:
El Dorado Hills, CA: Thursday, July 25, 2014: 6:30pm 
Reading & Signing: Face in a Book Bookstore
Petaluma, CA: Saturday, July 26, 2014, 1:00PM
 Reading & Signing: Copperfield's Books
Pleasanton, CA: Tuesday, July 29, 2014: 11:00 AM
 Reading & Signing: Towne Center Books
San Diego, CA: Saturday, August 2, 2014: 2:00 PM
 Reading & Signing: Mysterious Galaxy Bookstore
Citrus Heights, CA: Saturday, August 16, 2014: 1:00 PM
 Reading & Signing: Barnes & Noble, Birdcage
There are several more—you can find them all, along with my online book tour stops, at my website.
OK, and honestly how to do you have time to do martial arts, #publaw, the seahorses, and the raising of kids? How? Really, how?
I don't sleep much. And I drink a whole lot of coffee.
The truth is, I take it one day at a time, and I try not to worry too much if I can't get everything done at once. Sometimes, I do better than others at keeping all the balls in the air. Sometimes, I drop them—but then it's just a matter of picking them up and trying again. One day, and one activity, at a time!