Blog Hop: What's my writing process? It's isn't pretty.
Last week, my friend Lisa Alber tagged me to participate in this blog hop project. I don't know how Lisa had the time to participate, since she was barely out of the launch week of her debut mystery, KILMOON. Lisa's an inspiration at how she's been handling her launch, actually. She's an introvert (like yours truly) who just has to suck it up and do the parts of the writing life that aren't writing and aren't always fun.
But this? No problem. Blog hop hop hop.
What are you working on?
I'm working on keeping my life together at the seams while I promote my first novel, THE BLACK HOUR, finish writing my second novel, tentatively titled LITTLE PRETTY THINGS, and working a full-time day-job. From my own experience and what I've learned—especially from two people I'm about to tag to continue this blog hop project—is that I've passed the point in my life where I get to do just one project at a time. I'm on the treadmill—and I couldn't be happier. For one thing, it's not a real treadmill.
How does your work differ from others of its genre?
I hesitate to say that my work differs from all books in my genre. Mystery readers have expectations, and I'm not trying to circumvent those. That said, my goal is make sure that my mysteries contain the things I admire in books from any genre: good characters you want to get to know, plots that keep the story moving, and writing that engages. Even though my book has some dark (really dark) themes, I also hope that my sense of humor comes through. I like books that are fun to read, so that's what I want to write.
Why do you write what you do?
I loved mysteries early in my reading life.  Encyclopedia Brown, anyone? Oh, and Harriet the Spy, of course, is the gateway drug for girls who go noir. When I was old enough to have read most everything in the kids' library, the librarians sent me upstairs to the adult sections. But I was too scared to walk past the desk, so I hung a right through the first doorway I came to. It was the mystery section, where I discovered Mary Higgins Clark and Agatha Christie. Much later when I was writing a novel with a crime in it, a mystery writer I met, Terence Faherty, filled me in. I was writing a mystery. I was so happy, because I was suddenly part of an amazing community of generous writers. But basically? I write mystery because that's what I want in a book. When I read other fiction now, I get anxious waiting for the crime. Where's the body? Where's the dunnit? Get to the dunnit, dammit.
How does your writing process work?
Oh, not that well, actually. Thanks for asking!
OK, really? It gets me there, but I can't recommend it.
I think when you're first starting out you get a lot of advice about how to get your work done. The problem is that not all the advice works for you, so you feel as though you're doing it wrong. You have to find the process that works for you. My process is that I draft pretty much by the seat of my pants for about half a book and then I wander around for several weeks trying to make sense of what I know and don't before I start outlining the rest of the book and writing toward an ending I sometimes don't know.
Crazytown, right? Not a process I would suggest to anyone, as I said. But it works for me. Find what works for you, and just write.
—
I'm tagging the one and only Matthew Clemens and the evil genius Clare O'Donohue on this blog hop, because these two have been two of the most generous advisors I've had so far in this mystery-writing life. I know they'll have some great things to say to you, too.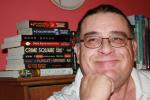 Matthew Clemens has collaborated with Max Allan Collins since the 1990s on dozens of projects, including What Doesn't Kill Her and the forthcoming Supreme Justice.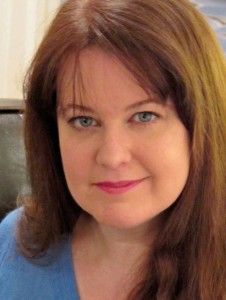 Clare O'Donohue is the author of the Someday Quilt mystery series, including most recently The Double Wedding Ring, and the Kate Conway mystery series, including Life Without Parole.