March conferences: In like a lion, out also like a lion
I've been meaning to spend a little time on my adventures this month. March, they say. In fact, it's almost April, and yet here we are, with weather that seems rather January in nature.
But March: I went to my first Public Library Association conference in Indianapolis, and then I went to my first Left Coast Crime in Monterey, California. And if you think you can tell which of these was my favorite experience, you might be wrong. I had a fabulous time at both of them.
They were back to back, so now I'm sitting in pajama pants with a glass of cider at my elbow, trying to catch up on life and whatnot.
(It's the whatnot that gets you.)
At PLA, I got to see my delightful friend Denise, who is a real life librarian type. In fact, she's an administrator of library programming in things like literacy, but why argue the point? I also got to see the library staff of my very own childhood library in Lebanon, Indiana, including my high school friend Chase. I introduced Denise and Chase, actually, and they got on like a house on fire. A library on fire, if you'll allow it.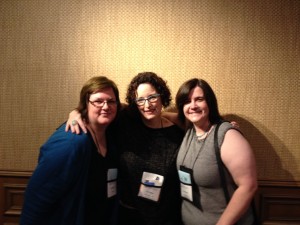 At Left Coast Crime, I got to meet the totally awesome Lisa Alber, with whom I've carried on a six-month online friendship at The Debutante Ball. We're the first 2014 Debs to meet in real life, and we also got to meet Susan Spann, a 2013 Deb! The mysterious Debs (from left, me, Lisa, Susan).
I was in some good company, catching up with some of my favorite people in life, including Catriona McPherson, who made us all cry during her acceptance speech for the heartily deserved Bruce Alexander Award for Dandy Gilver and a Bothersome Number of Corpses (loved it). And I met some new favorite people, like M.P. Cooley, author of Ice Shear (reading it, loving it). We were on a panel together, along with Sherry Harris, Carlene O'Neil, and Holly West, who ROCKED their first panel ever as the "New Deadly Voices."
Oh, and Louise Penny plopped down next to me at a panel and I held her hostage until she agreed to this photo.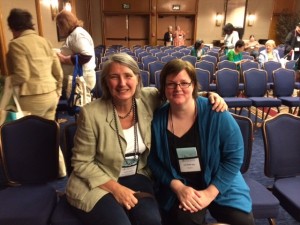 No Louise Pennys were harmed in this making of this photo.
Louise was the international guest of honor, and she was fabulous at every turn. We all want to be Louise when we grow up. When we grow up tomorrow. And not just because she sells a Quebecoise-swearing lot of books. She's just funny and genuine, and seems like the kind of person you could drink wine with. She also appears to be a dog person, so we shall get along wonderfully when I move into her house with mine.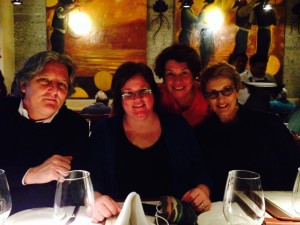 The other great people I met were some of my fellow Seventh Street Book authors: James W. Ziskin (don't forget that W) and Terry Shames. Along with Lynne Raimondo, who lives nearby and so has become a local writing friend, we had a blast. Rumor has it Robert Rotstein was also in attendance, but he did not appear in mortal form to me, so. You be the judge. We, minus this supposed Bob person, had dinner one night during the conference and had a blast. Lynne's son and husband may not have had a blast, but they sat through us all being our dark-humored selves. Terry's novel A Killing at Cotton Hill was up for one of the awards at Left Coast, so we were all excited to be there and to have one of our own, as they say, killing it.
And then this week I went to speak to graduate students and potential graduate students of journalism at my alma mater. Good group, and they took my ribbing them about having all the amenities my class of journalism students never had pretty well. The writing professor I worked with most closely during my first graduate degree at Ball State University, Mark Massé, was there, but not early enough to hear me gushing about how awesome he is. So he's lucky they filmed the panel, isn't he?
In short, I have lived three lifetimes in the last two weeks and now I deserve these pajama pants and this drink and this early bedtime. *yawn*
OK, April, what do you have in store?