CONTEST: Win KILMOON by Lisa Alber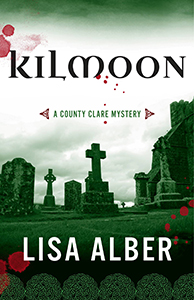 This week is the launch of my friend Lisa Alber's debut novel, KILMOON—and, to celebrate, I'm giving away a brand new copy of it to one lucky reader here on my site!
Simply post a comment on this blog post before five p.m. (Central) Friday, March 21. I'll draw a winner ASAP and email the winner for shipping information. I'll purchase your book from your online store of choice and have it shipped to you (U.S. addresses only, please), or you can select to have your book purchased and waiting for you at your favorite local independent bookstore.
Lisa and I are among the 2014 class of The Debutante Ball, and we have had so much fun. Lisa's book is the second of our five debut novels to launch. It's such a great way to be a debut author—together. This week also marks my first chance to meet Lisa or any of the Debs. We'll both be at Left Coast Crime in Monterey this week! So excited.
I've had the pleasure of reading Kilmoon already, and you're in for a treat. It's a twisty turny moody mystery with an ensemble cast of people with secrets to hide. The main character is Merrit Chase, whose life hasn't been easy and who hopes that meeting her biological father is the beginning of a new life. And boy IS IT. It's also the beginning of a news books series, one I'm happy to be in on at the ground floor.
So, happy launch day, Lisa. To the rest of you, happy commenting!