Great book from Catriona McPherson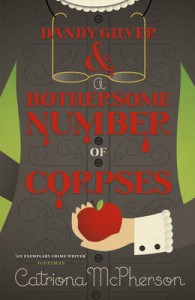 Duh. Every book from Catriona McPherson is great.
I met Catriona at a Bouchercon Mystery Conference a couple of years ago. I think I can sum up what happens when most people meet Catriona when I say that I had an instant crush, and I hoped and hoped and hoped that when I read one of her books that I would like her writing as much as her personality.
It's just so much easier when you like a writer AND their writing.
And then I read her eight books in a single year.
So, yeah. Catri0na's person and Catriona's writing are both completely stellar, and I'm a fan of both.
(Actually, I read the first book in March 2013, and just finished the eighth today, so…I read eight of her books in seven months. And I would read more if there were any more. There are—SOB—no more until the #8 Dandy Gilver comes to the US.)
Some of her books are a little difficult to get in the US, but it's worth the effort if you like witty, clever historical mysteries. The protagonist is Dandelion "Dandy" Gilver, a married woman of some means, Scottish by birth but living in England between the wars. Times are changing, which allows Dandy to become, in secret from her husband and two sons, a private detective. In After the Armistice Ball, she's talked into detecting by a friend who remembers how Dandy once puzzled out something for her. From there, Dandy and her partner in detection, Alec Osborne, get closer and closer to going pro.
What I love about this series is the voice. Here's a little paragraph I marked in the latest, Dandy Gilver and a Bothersome Number of Corpses. Dandy has just found out some little bit of gossip about a family of means she knows through friends:
"Such a puzzle, and such a delicious morsel, too. Not that I was a gossip; at least, I had not been until I took up detective work, but of late I had begun to wonder. Perhaps the very habit of sleuthing was working on some neglected part of me, like eurhythmics for posture, causing it to grow brawny from frequent use."
I also like that not all of the solution is spoon fed to the reader. In the first book, part of the mystery was revealed, but revealed in such a way as to leave readers forced to piece it together for themselves. Apparently some readers don't like that. Too bad, because it's sort of thrilling to work it out for yourself. The other books have been more careful to make sure all readers get to the solution, but are no less cleverly written for it.
As mystery writer Clare O'Donohue once said, Catriona's books are like Downton Abbey with murders. REAL MURDERS, not accidental poisonings and 25-year-olds having heart attacks.
I'll be waiting for Dandy Gilver and a Measure of Brimstone when it hits these shores. You? You've got all seven Dandys and one stand-alone, As She Left It (also highly recommended) to get through before that day. You lucky ducks.
Full disclosure: Catriona sent me an advanced reader copy of Bothersome Number of Corpses in exchange for a review (of any temperature, although she needn't have ever worried, given how much I liked the past books). Probably also in exchange for me to stop mewling about how long it would be before this book was available for purchase. This book is now available for pre-order for its November release date. You can get Dandy #1 for under $5 on Kindle. Go do that.