Printers Row 2013
This past weekend I went to Printers Row Lit Fest. I've been before, many times. This year, though, I was an AUTHOR. Check it.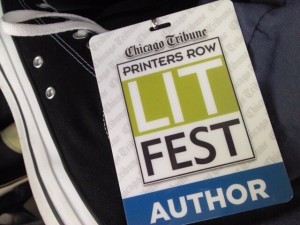 That is my Chuck Taylor, and that is my PRLF author badge. I got some Q&A love from PRLF, too.
Several of the years I went to Printers Row, I was there hawking the wares of my MFA program. They were there this year, too, and it struck me how fast all this has gone. I mean, it didn't always feel fast. At times, it felt as though I would never finish anything, never find people who wrote what I wrote, or never get published. And then I did.
In fact, I found myself musing this weekend, I went from attending my first mystery conference in fall of 2011 to my first on-the-panel panel and MCing the Mystery Writers of America Midwest Chapter booth at Printers Row this year.
See? Now that I'm on this side of it, it seems like no time at all.
I have a lot more to do. Like…having an actual book. The Black Hour got me through the door to author status at Printers Row, and I spent a great deal of time talking about it there. I hate to think it still won't be out by next year's PRLF, but it's very likely. Estimated publication date: July 2014.
I was gratified by the woman wearing the, uh, Northwestern U shirt who, after hearing me read a section from the book at the MWAMidwest booth, came up and asked me about it. She seemed really interested, and it was so sweet. It might also have been because I learned a lot about reading to a PRLF crowd this weekend. On day one, I started with chapter one, which, well—the beginnings need to be good but that doesn't mean they can keep people in the booth. I'm never starting from chapter one again. I brought the GOODS on day two, and the tent stayed full.
Thanks to my friend Aaron and his wife, Crystal, who stopped by, and to my student (!) and friend Joan, who came to our panel on Saturday. A shout out to Allison for handling our panel on Sunday, and for keeping my poster for me when I forgot it.
I needed that poster. I'm framing it.