Notes
I know.
It's been, like, forever, right? I don't have a great excuse, just the same as anyone else: life. Life takes over, and the next thing you know it's six weeks later and it's so much easier to forget you have a blog than it is to open it up and write something.
The good news is that some of that life has included writing on my new book. It hasn't been a rom com montage of pages coming off the typewriter in a flurry or anything, but I have been working on the book. Which is more critical than the blog, I'm afraid.
I went to Bouchercon in Cleveland, which I want to tell you all about, sometime soon. But right now I don't feel like it.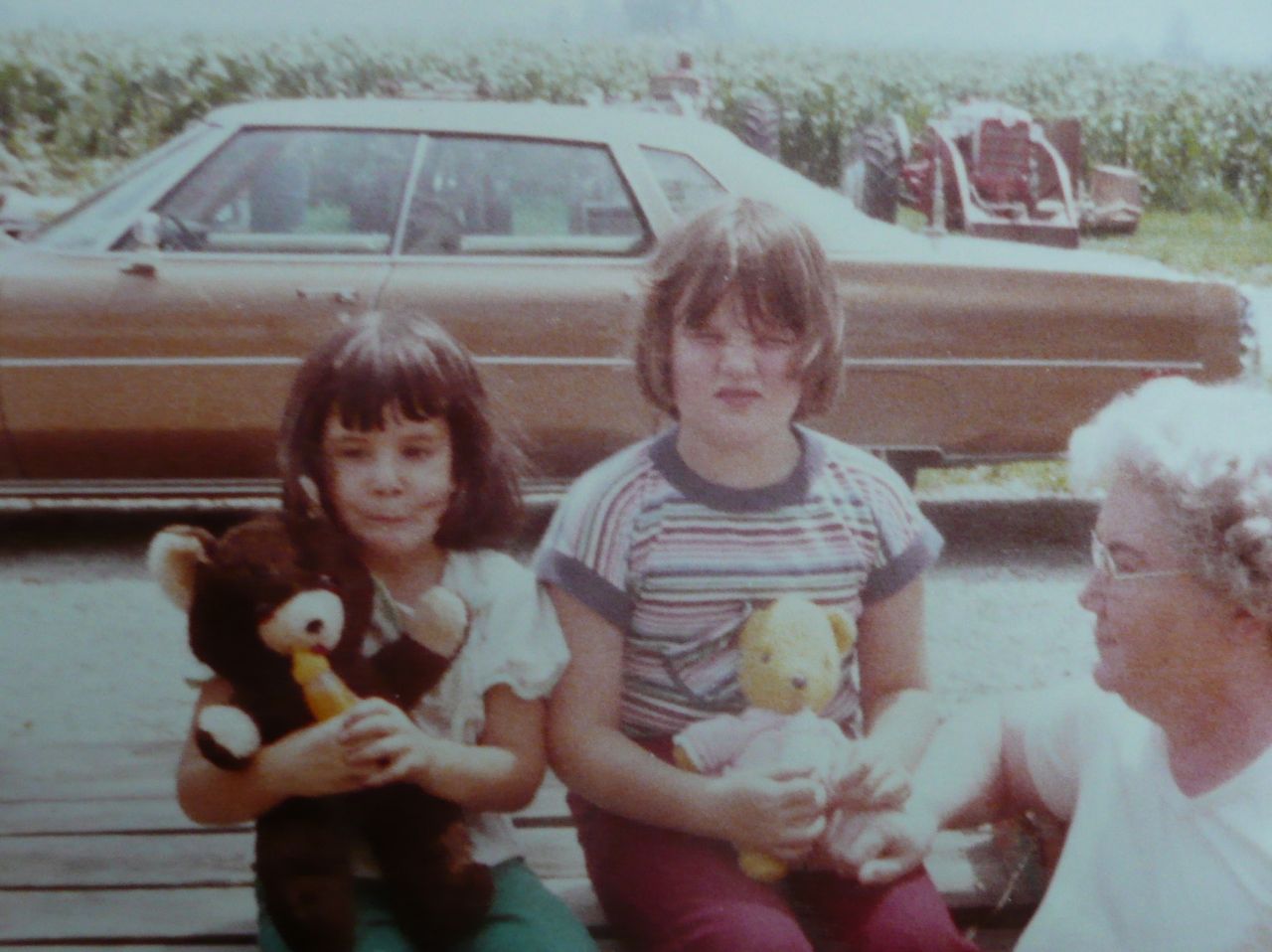 My grandma died this week. You've all had grandmothers, so I don't need to tell you how sad it can be, how devastating it is to have your parent dissolved into grief, a kid again. People keep asking me if we were close. I guess I know why they ask, since grandmas don't necessarily come up in daily conversation.
My Grandma Ann was a constant part of my childhood. That's me, with the squinch-face and my Pooh bear, above. My sister. My grandma, and her giant car. In the background, you'll notice the corn, the farm machinery awaiting my Grandpa's fix-it-ness. The blinding sun (see the squinch-face? I spent most of my Indiana childhood summers trying to keep the glare out). That's my childhood in the summer, right there. A few years after this, when I was in 4-H (shut up, city mice), Grandma helped me with my projects and taught me how to use a sewing machine.
That's right, I can sew. Sit with that for a while.
The other thing my grandma did was encourage me to tell stories. Once we went on a trip to a family reunion in Ohio (I think?), my grandparents on their Gold Wing motorcycle and us in our car. I took notes. I don't remember what happened, but some observation we made in the car about the two on the 'cycle made it onto paper. During the reunion, my grandparents got their hands on the report and started sharing it all around with all these distant Rader cousins. My first rave review.
I was probably ten, eleven at best. Years later at my high school graduation party, Grandma put that little story of our trip out on the table to share again. When I went to Russia on a college trip a few years later, she had me come and share my adventures with her home ec group.
I don't know what a home ec group is, either.
You can bet she was pleased when my story appeared in, of all things, Good Housekeeping. That must have felt a little full-circle to her. I don't keep a great house, but if I keep a good one, she's partially to thank.
I wish she'd lived to see my novel published. Well, not to see it, since she's been legally blind since I was about ten. But I wish she could have held one in her hands. I know she wanted to. The last time I saw her, she remembered to ask how things were going. She knew my stories were important to me, and I know they were important to her. I know that I was important to her. That's what grandmas are good at, making sure you know the things that matter.
I'm going to miss her. We're all going to miss her. We'll go on, of course. And one of us is going to keep taking notes.