Cute little Edgar Allan Poe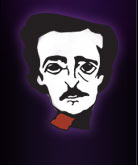 Remember when I got a scholarship from the Midwest Writers of America to take a course of my choosing? You should apply, too. (Although apparently I broke the program. They aren't allowing online instruction anymore. Oops.) The course does not have to be a mystery-specific course, by the way.
Here's a run-down of the program from Chris Roerden:
Subject: Two $500 scholarships for mystery writers
You pay NO entry fee.
You need NO membership in any organization.
You need submit ONLY:
* 3 chapters of the mystery (any subgenre) novel you're working on and brief synopsis, OR
3 short mystery stories, OR
a complete mystery script, OR
mystery nonfiction, plus:
* a one-page essay,
* specifics about the writing class, course, or workshop you will register for with your scholarship, if you're recipients,
* 2 letters of recommendation (which take longer to get than you'd think so start now), and
* a completed application form, downloadable with full details from mysterywriters.org/?q=AwardsPrograms-McCloy (or work your way from mysterywriters.org to Awards, then to the McCloy scholarship).
Bundle it all in one big package postmarked no later than February 28, 2011, and send to the address on the form. The panel of judges — all published mystery writers located in 5 different regions of the country — might award you one of two $500 scholarships to use in registering for writing instruction that takes place in the US (but not online) in the summer, fall, or winter of 2011 or spring of 2012.
Why are these scholarships awarded? The annual Helen McCloy/MWA Scholarship program was established to encourage two promising mystery writers who value learning to develop their skills.
Chris Roerden, 2011 Chair, McCloy-MWA Scholarship Committee