Death at Greenway won an Agatha Award!
I'm so excited. First, I got to wear this amazing hat.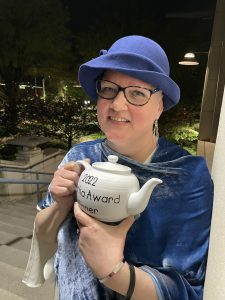 AND while I was wearing that hat, Death at Greenway was named the Best Historical Novel at Malice Domestic! That's the Agatha Award, for my book about Agatha's house—quite fitting and proper, don't you think? I'm thrilled, of course.
It was a great conference, a wonderful chance to see friends for the first time in two years (for me), and to talk about my research for Death at Greenway. (I will probably shut up about my research at some point but maybe not, maybe never.)
Congrats to all the Agatha nominees and winners! Check out the full list here! And if you love traditional or cozy mysteries, get on the Malice Domestic mailing list to be sent info about next year's conference!