The NYTBR likes Death at Greenway! *fans self*
The morning got very exciting suddenly when friend and amazing author Julia Dahl congratulated me in an email on the NYT!!! with all those exclamation points. And I hadn't seen it! And now that I have, this is my face: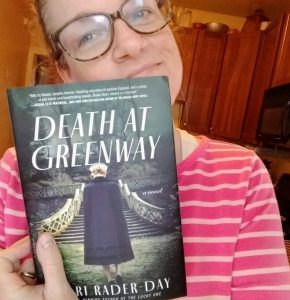 If you are a subscriber to the New York Times, here's the entire post, a collection of reviews on "gentler" crime fiction stories for hard times (yes, please).
Here's what reviewer and Crime Lady Sarah Weinman says about Death at Greenway:
"I applauded Lori Rader-Day's new novel, DEATH AT GREENWAY, as soon as I realized that, even though the title refers to Agatha Christie's beloved manse, Dame Agatha doesn't appear in the book in any significant way; the estate itself is the star. It's not that Rader-Day couldn't breathe life into Christie, but why do that when there are other stories to tell? The most interesting tidbit is that Greenway became a home for evacuated children during World War II, and a crime novel with that backdrop proves irresistible.
Greenway is an immediate haven for Bridey Kelly, a nurse fleeing terrible mistakes and looking to salvage her professional pursuits. She feels herself recovering through looking after nearly a dozen children, and finds fast friendship with another nurse, the glamorous and mysterious Gigi. The war casts plenty of dark shadows, but the discovery of a body floating in the river near the estate rips apart Bridey's calm. What follows is a Golden Age homage, an elegantly constructed mystery that on every page reinforces the message that everyone counts."
Irresistible. Says the New York Times Book Review. I'm so happy. I'm especially happy that she got it exactly—the house is the story. It is preserved in part by Agatha Christie and her legacy, but each person who ever passed through its doors has a legacy, too.
I'm going to celebrate by working on some book club items and maybe buying some pants because apparently I'm going out to meet some readers very very soon?