NEW POST FOR REAL
I just did a bunch of labeling of old posts and had to wonder: For those of you who are reading this in a reader, did those posts all re-post for you? I'm so sorry if they did. I'll try to label as I go from now on so that we don't have that problem.
I'll write and post totals later, but it's still Sunday morning and my tea hasn't kicked in. Forgive any evidence to that fact as I catch up on my reading-related news.
That won't take long because I haven't been reading very much. Have you seen my word totals? Did you know I was getting ready for a new job? Yeah, that's why I haven't been reading and why what I have been reading won't be found on my classics reading list for the year. (Major fail on that list so far, by the way.)
51. Await Your Reply– Dan Chaon
Love love love Dan Chaon. Oh, wait.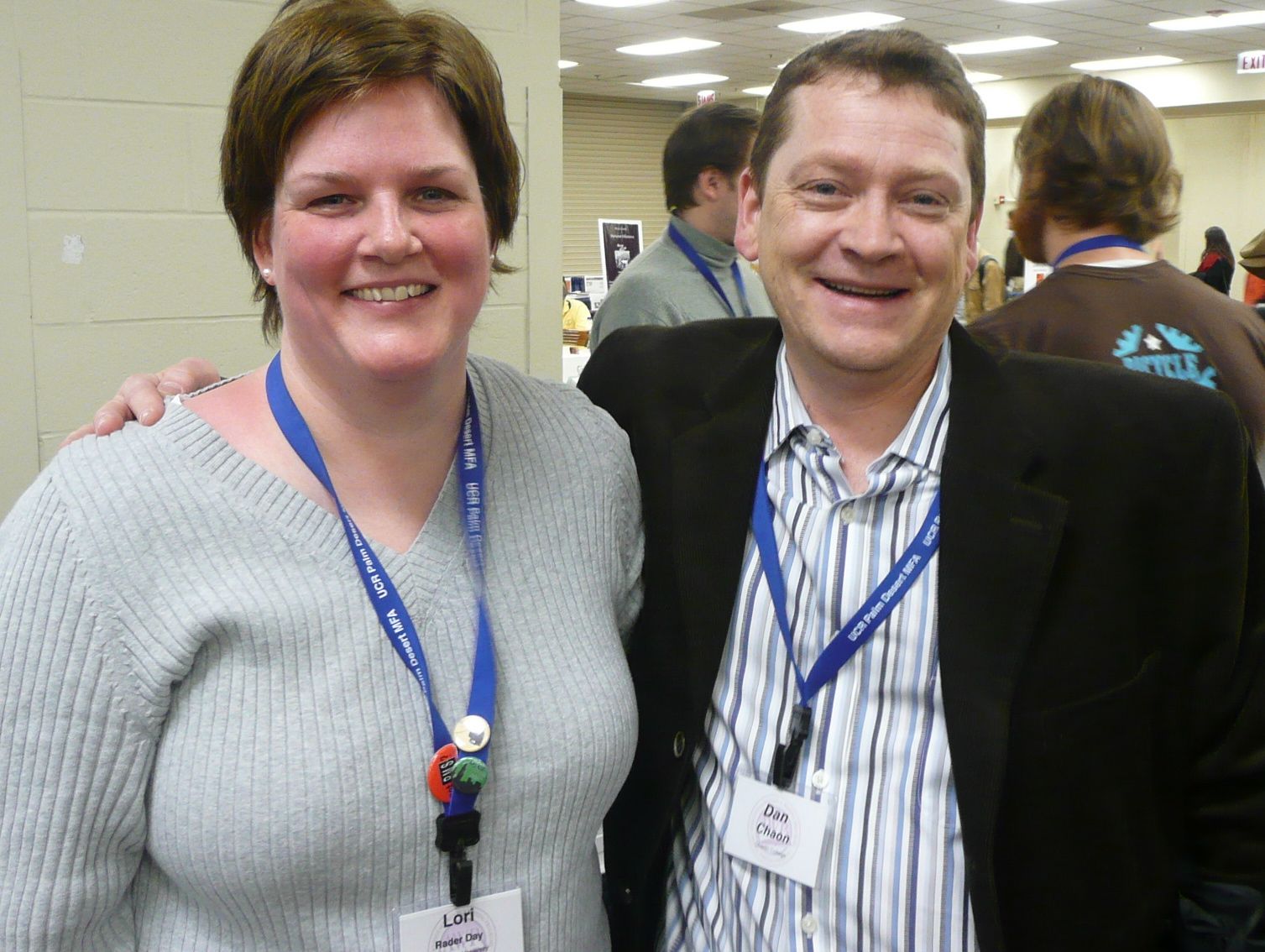 I always wanted to use this somewhere. That's FanGirl and Dan Chaon at the AWP Conference in Chicago in February. I believe he was surprised to find a FanGirl at AWP (and a FanBoy, as my friend James is a major one for Chaon and got his photo, too). He shouldn't have been. His books are fantastic, and the new one is no exception. Anything I write about the new book feels like giving away too much, but maybe I can say that it's about identity theft? And identity creation? And—no, just read it. It comes out next week. (I found an advanced reader copy in a bookstore giveaway pile, the FOOLS.) Chaon has some great story collections, too.
Also here's an interview with Chaon. He can tell you about his book without ruining it, I'm sure. The line that kicked me in the gut: "Most people who grow up in poor communities are not becoming writers." Maybe you won't believe me because of where I live now and the fact that I have retirement accounts and stuff, but I grew up pretty poor. Not as poor as some. But I think it's one of my duties as a writer to write stories from that perspective, because Chaon's right. Most people who grow up poor don't change their station enough to do "frivolous" things like write stories. They don't get to the chance to get three college degrees and sit on their butts for a living. But when they do, they should be telling the stories that don't get told. I should be better at this.
52. I'm Looking Through You– Jennifer Finney Boylan
I read Boylan's last book, a memoir about her journey from Jim Boylan to Jenny Boylan, about living as a transgendered person trapped in the wrong body from childhood. Read it before she was on Oprah, thanks. And that book was really great. Boylan has such a way with scene and with making connections between moments in his early life (he was a he at the time, so I guess that's right) to helping readers understand how tragic it would be to live in the wrong gender. This book, however, is sort of…indulgent. It's about growing up in a haunted house (something the author sort of believes and sort of doesn't, which is interesting) and in, to put it as strangely as Boylan does, a haunted body. The book also seems to come from this weird stance that assumes that you already know Boylan's backstory. Which is a little strange, even if she was on Oprah. Read She's Not There first.
53. Harry Potter and the Chamber of Secrets– J.K. Rowling as if I needed to tell you that.
I remembered sort of not liking this book and have never re-read it, unlike the others in the series. But I decided to re-read it this time through the series, since I was reading for mind candy. Why not read the mind candiest of them all? Was better than I remembered, but is still the weakest of the books in my opinion. Short, at least.
54. Harry Potter and the Prisoner of Azkaban– J.K. Rowling
This is where this series takes off. From the very first chapter, this book is by far richer and better imagined than the first two books in the series. Harry starts to be an actual character, and the magical stuff starts to be interesting. The first two books in the series are kid books; this book is Harry starting to grow up, and he takes his readers with him. That's the most interesting thing about the series to me—how the books age along with the protagonist.
Clearly I need to read something other than the HP books, but it's really good reading for me right now. It has nothing at all to do with what I'm writing, and it's just pure enjoyment. But, yeah. All the books I read this year shouldn't have "Harry Potter and the" in the title.