Everything you need to know about writing a novel in 1000 words
Don't expect the 1,000 words to be mine. Given this assignment, I'd probably produce 5,000 words. At least. I am, as my MFA thesis advisor once said, wordy. But I thought this post was rather well done and succinct. A good place to go back to when I get stuck thinking what's next?
Speaking of my thesis. I got the bound copies I ordered today at long last. They are so pretty.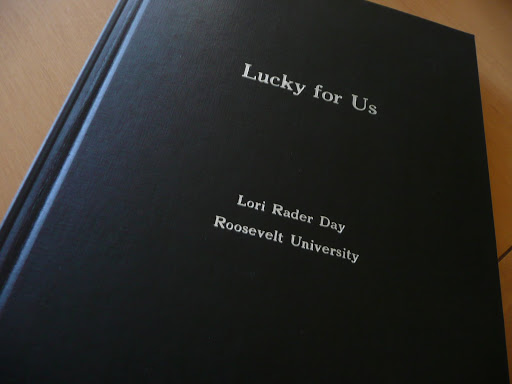 (I just had to edit HTML to make that picture show up where I wanted it to. Who's amazed at me? You should be. I have no idea how to edit HTML.)
So now I have a copy for my department, one for one of my thesis advisors (the other one said he's take a signed first edition later on), and one for me. Not sure yet what the lending privileges will be on my copy. Perhaps RESTRICTED, as I will not abide by jelly hands. This thing cost way too much for your jelly hands to get on the pages.
Now if I can keep my jelly hands off them.
In other news, I wrote a new chapter of my novel today. This should not be such big news, but I've been a little stuck (jelly hands) lately. My goal is to do another 2,000 words tomorrow. Saying 2,000 words is no big deal. I just used seven right there. Doing it? That's why I surround myself with other writers, who egg you on—and make you jealous if they are writing and you aren't. Do not underestimate the need for competitive writer friends.